suomeksi
❤️
❤️
❤️
❤️
❤️
❤️
❤️
❤️
❤️
❤️
Digination Oy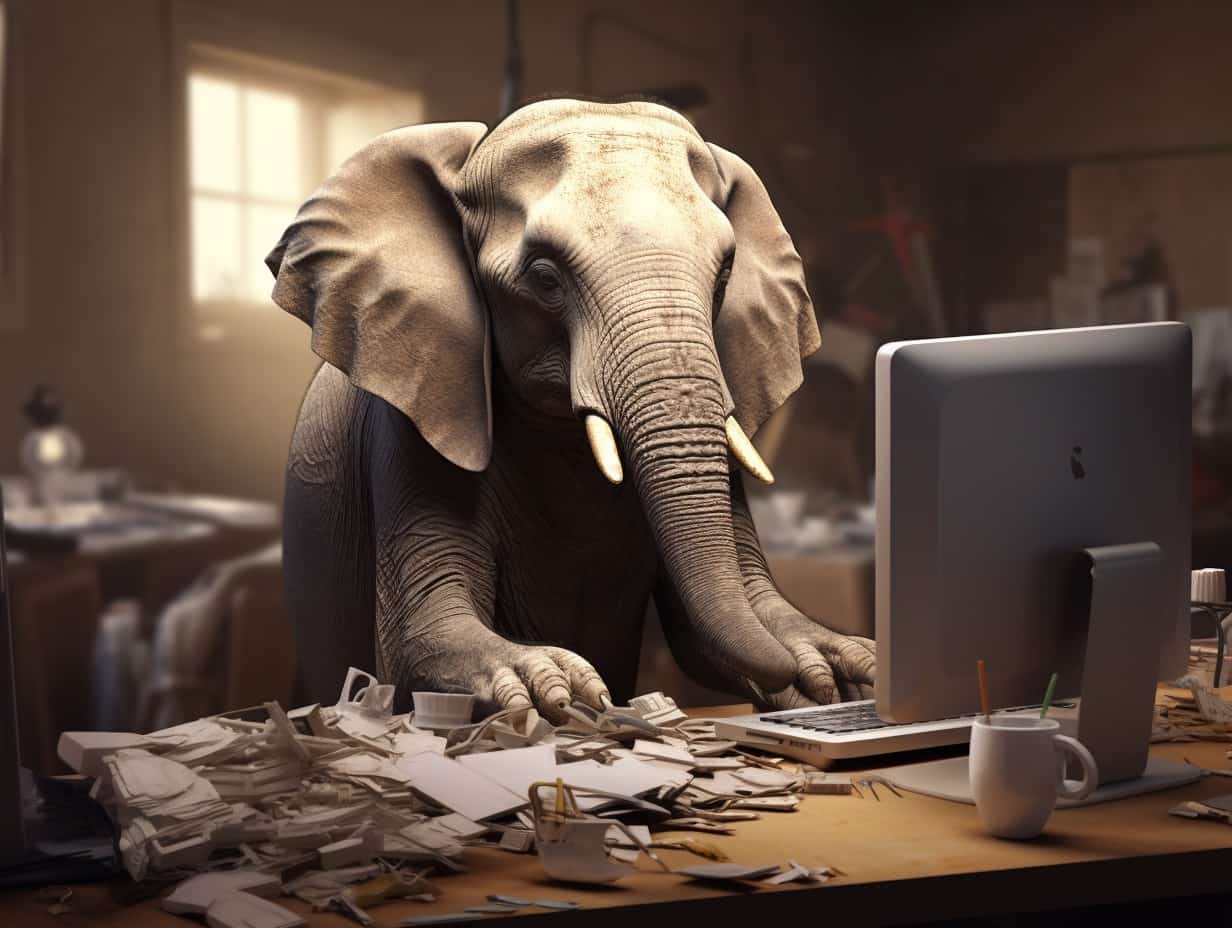 We are an internet company established in 1999. Our expertise includes high-end tailored web systems, IT consulting, photography, artificial intelligence solutions, and graphic design. Over the decades, we have undertaken a significant number of highly interesting projects with equally fascinating clients.
Our operations are guided by agile development and customer satisfaction. We are cost-effective and operate with a lean organizational structure. With us, the customer always gets what they need!
Our Project Philosophy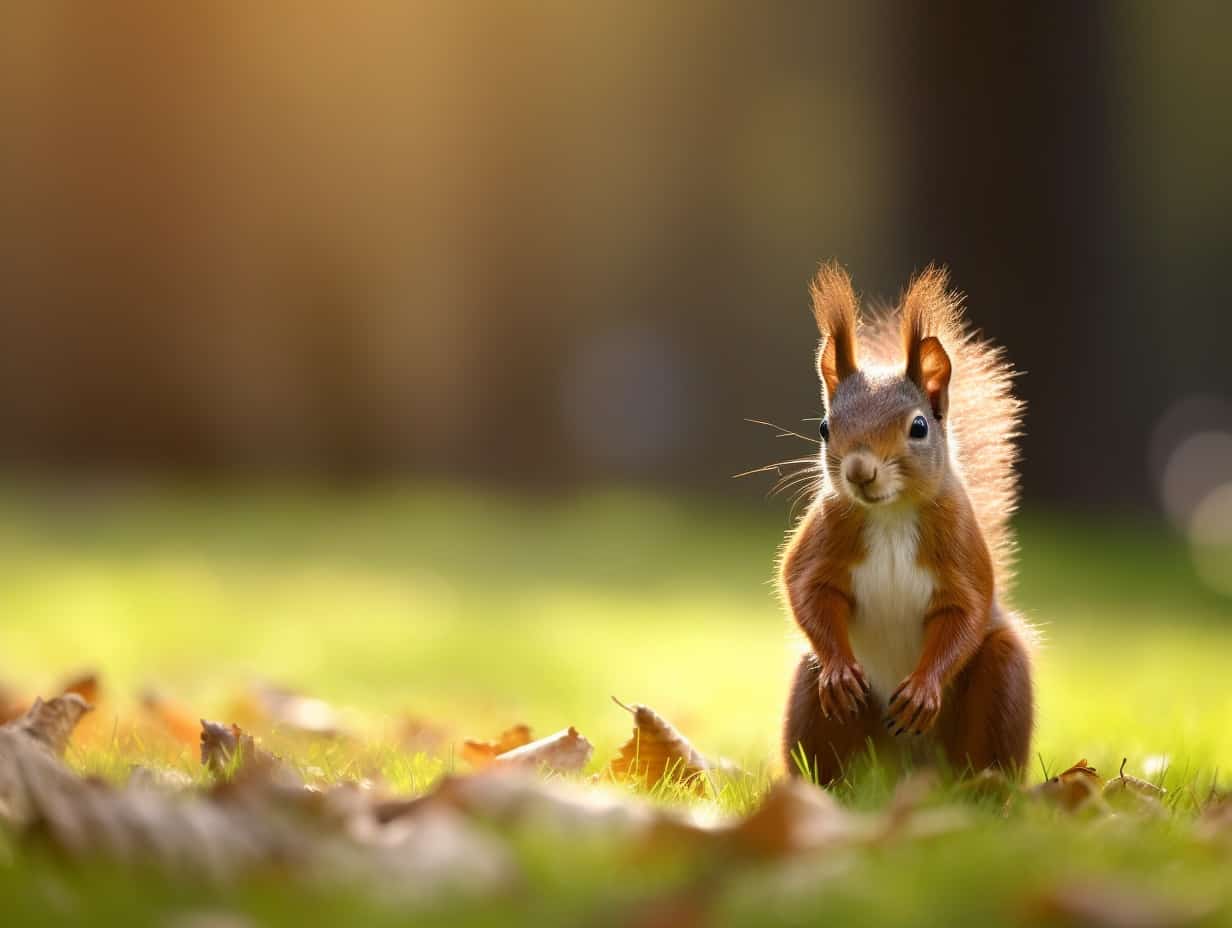 We initiate projects swiftly and efficiently with a customer needs assessment. Then we start coding the system which the customer can test during the process. Once everything is ready, the satisfied customer can begin using the system. Over the course of decades, we've developed an extremely effective way to quickly transition from needs assessment to a flawless end result.
We minimize the use of off-the-shelf software and application libraries. The significant advantage of a customized system is that we don't have to try to mold a pre-made product to fit the customer's desires; instead, we can directly implement exactly what is needed. The typical issue with ready-made products is that they do a little bit of everything, but often not in the desired way or not at all what's necessary. Our approach ensures the most efficient and secure outcome compared to using off-the-shelf products. Although our approach might sound labor-intensive, creating a customized system isn't as expensive as one might think. Ask for a quick price estimate, and you might be pleasantly surprised.
Yes, we occasionally use platforms like WordPress or Squarespace if the client prefers.
Project Success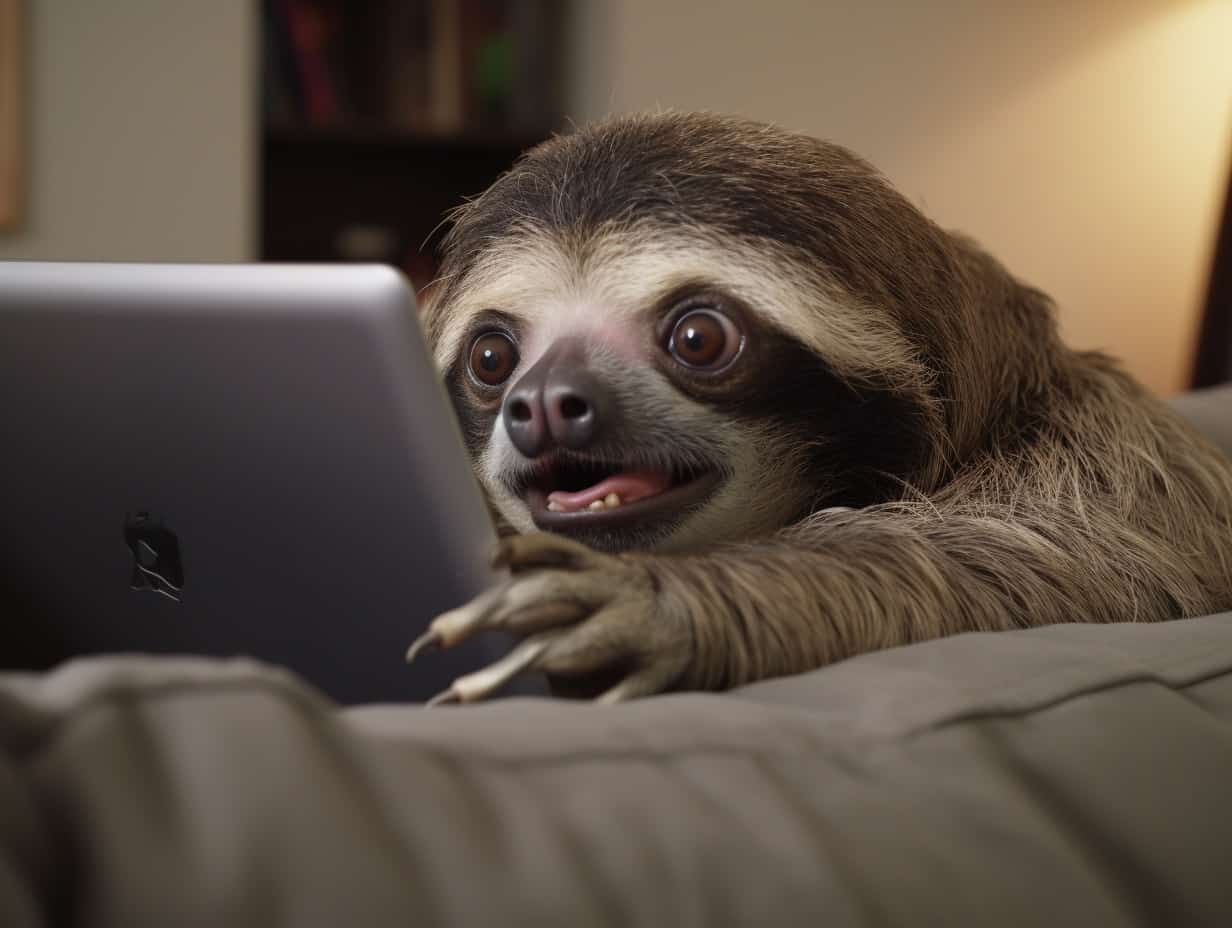 Have you been part of an IT project where an impressively confident IT person promised a comprehensive system, only for the actual result to deviate from the specifications? Additional invoices started arriving when minor features not included in the initial definition were discovered.
We don't operate like that. Our prices hold, and they already include the minor changes that typically arise during projects. Throughout our existence, we haven't presented a single extra invoice to a client. Our clients are always content and know what they're getting!
Selected References
Aude.fi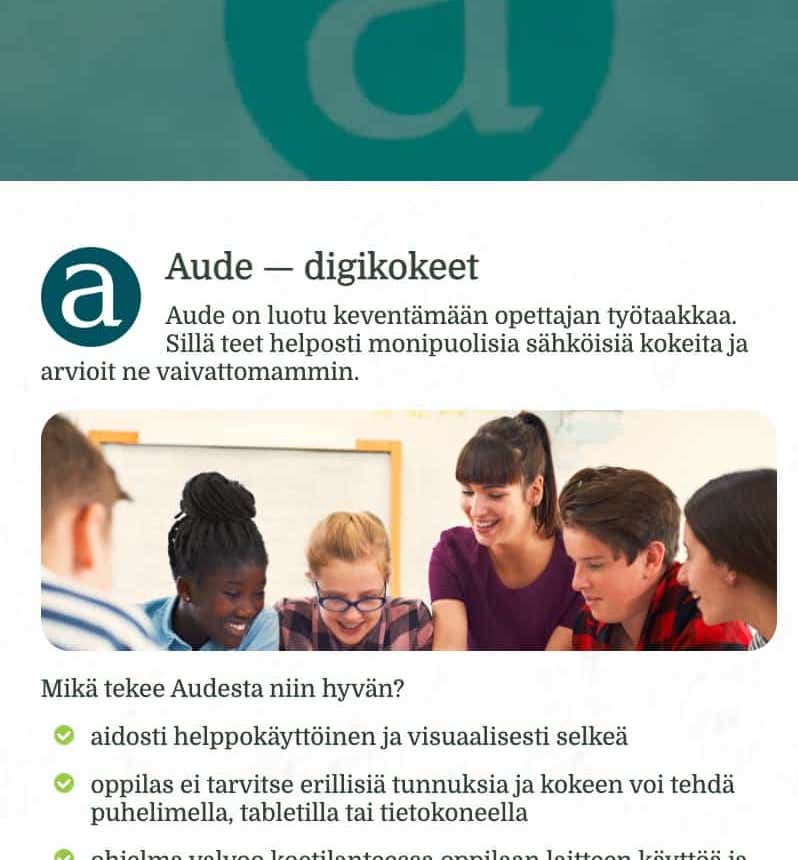 Aude Digital Exams is Digination's own digital exam platform. It offers an effortless way to conduct digital exams and tests under supervision. The test-taker's device usage is monitored, preventing cheating without leaving traces. Aude also provides excellent tools for assessing digital and paper exams, along with comprehensive evaluations using the seasonal assessment tool. Aude is priced at only 49 euros per year!
Aude can also be customized for educational institutions, with additional features, a custom domain, and more. Try it out and be amazed!
---
Crystaleye.fi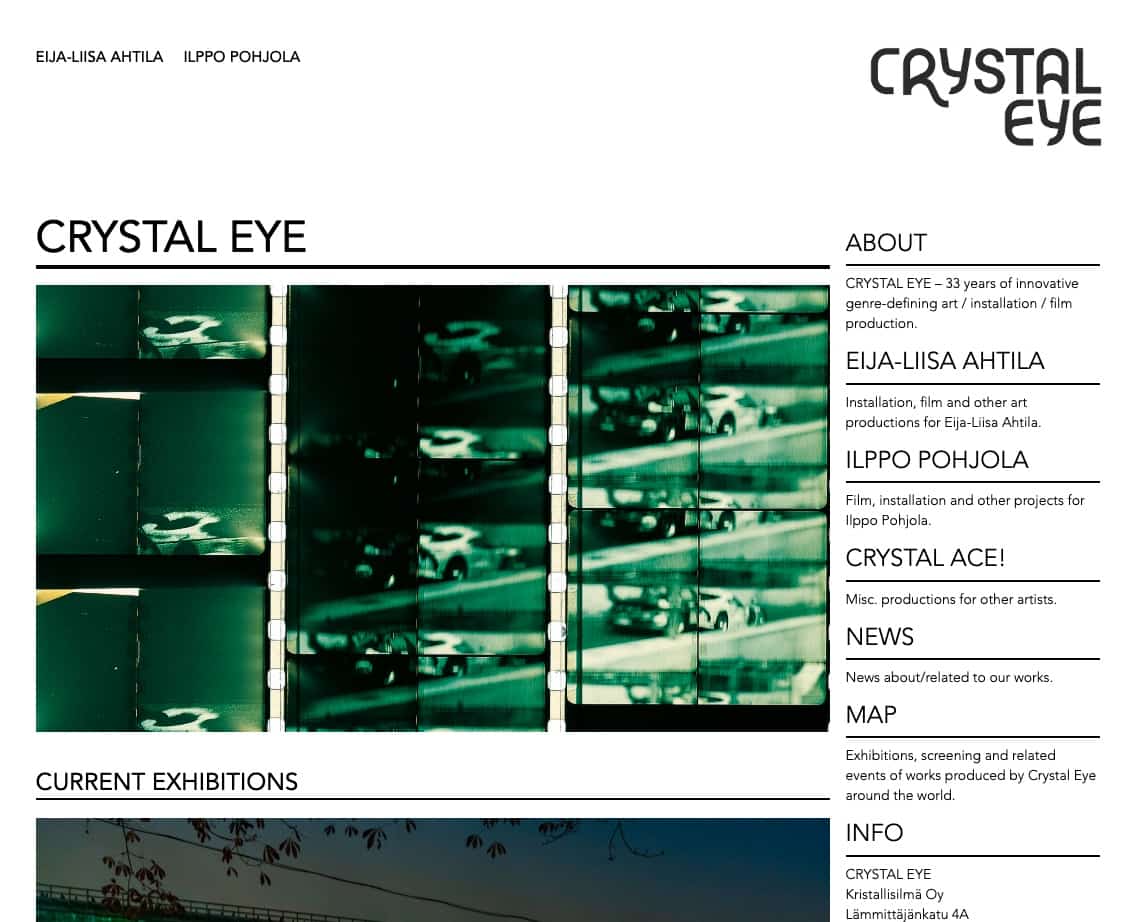 For the artist Eija-Liisa Ahtila and Ilppo Pohjola's company Kristallisilmä Oy, we developed a fully customized publishing system. This system easily generates content fitting their visual identity, including images, text, videos, SoundCloud and Spotify embeddings, and more.
---
Asuntojenmyynti.fi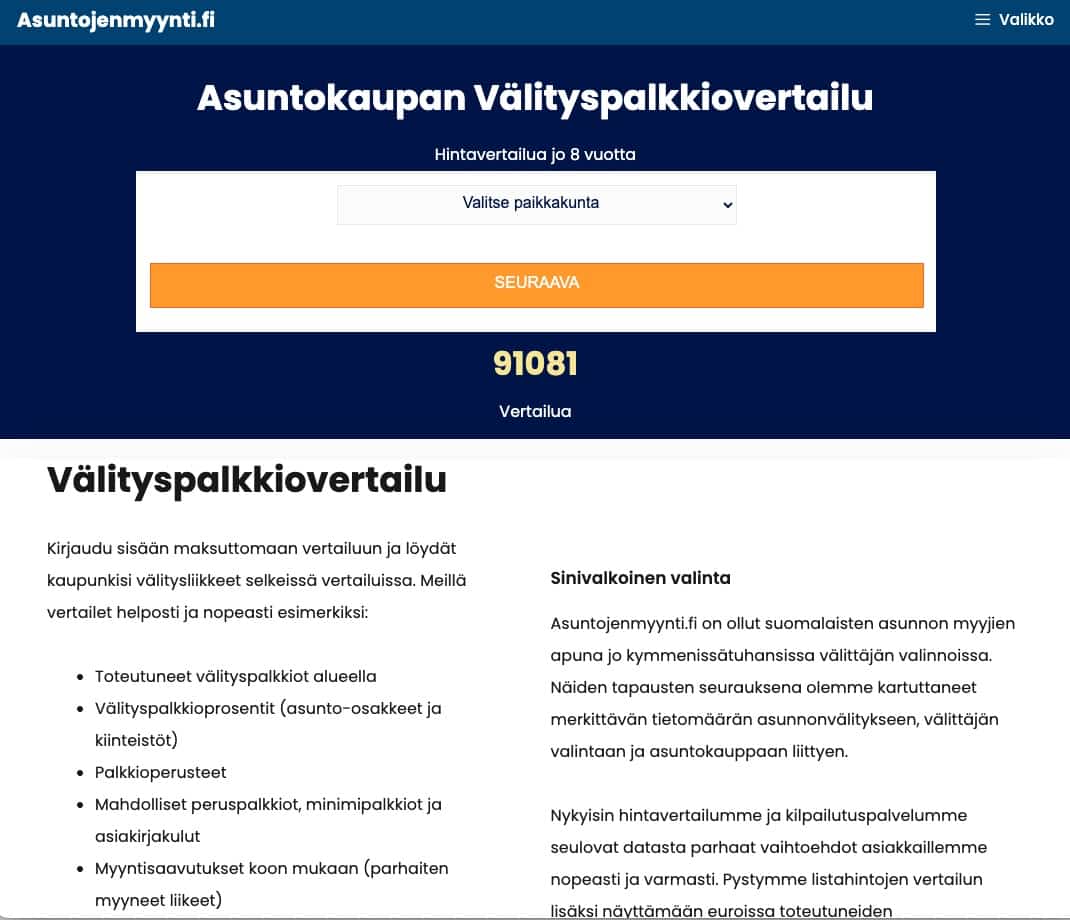 We implemented the largest real estate commission comparison website in Finland on the WordPress platform. The system included complex extensions and integrations with external systems. The project involved merging and integrating extensive databases. The system's design was done elsewhere.
We also created a service for comparing realized housing prices, utilizing open price data from the statistics bureau and other sources.
---
Etelasuomentalopalvelu.fi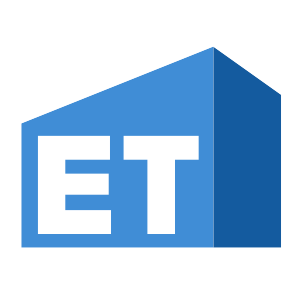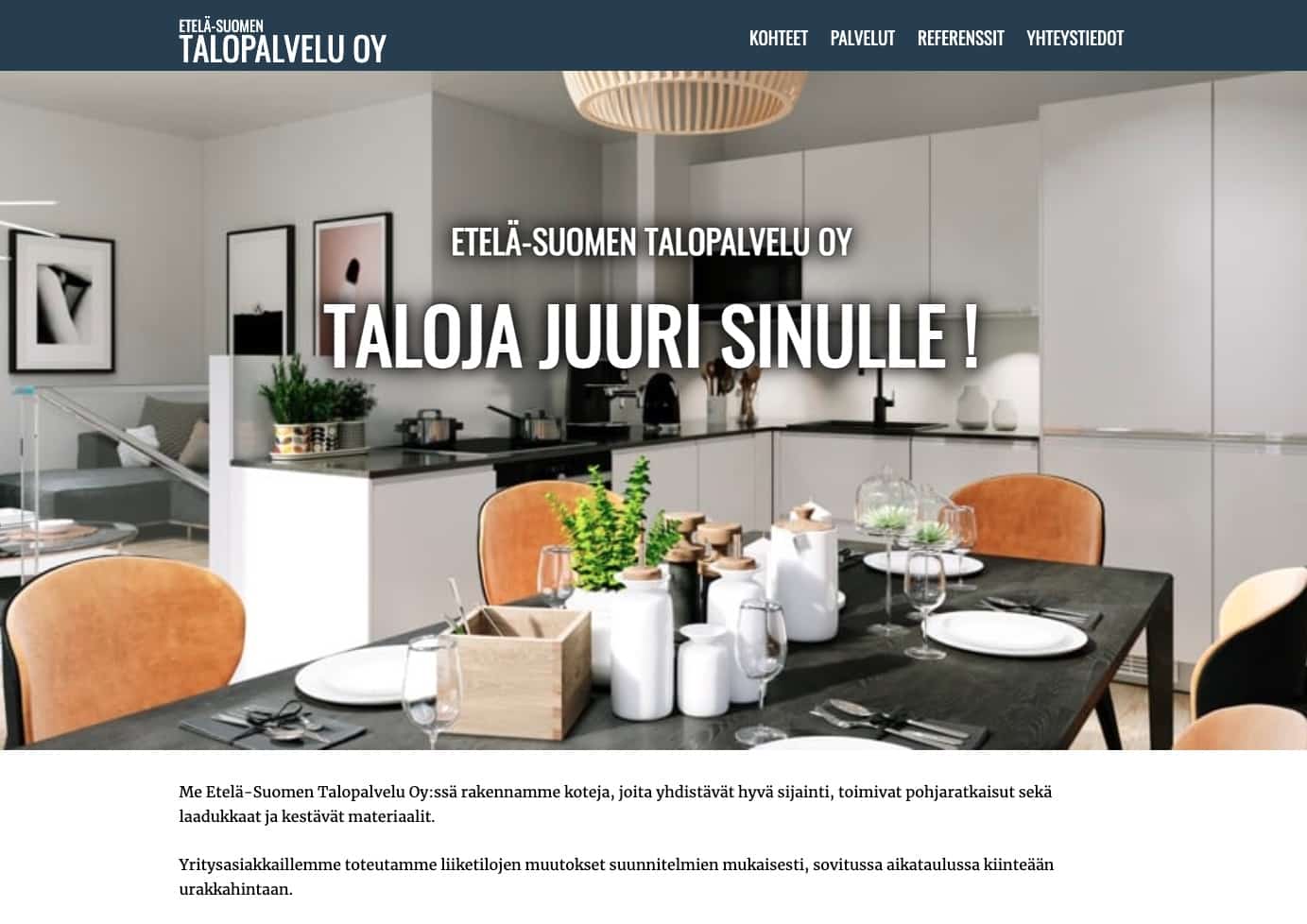 For Etelä-Suomen Talopalvelu, we developed a tailored publishing system for creating pages, property listings, and news. We handled everything from design and photos to backend systems and even slogans.
https://etelasuometalopalvelu.fi
---
Elainklinikkaaarre.fi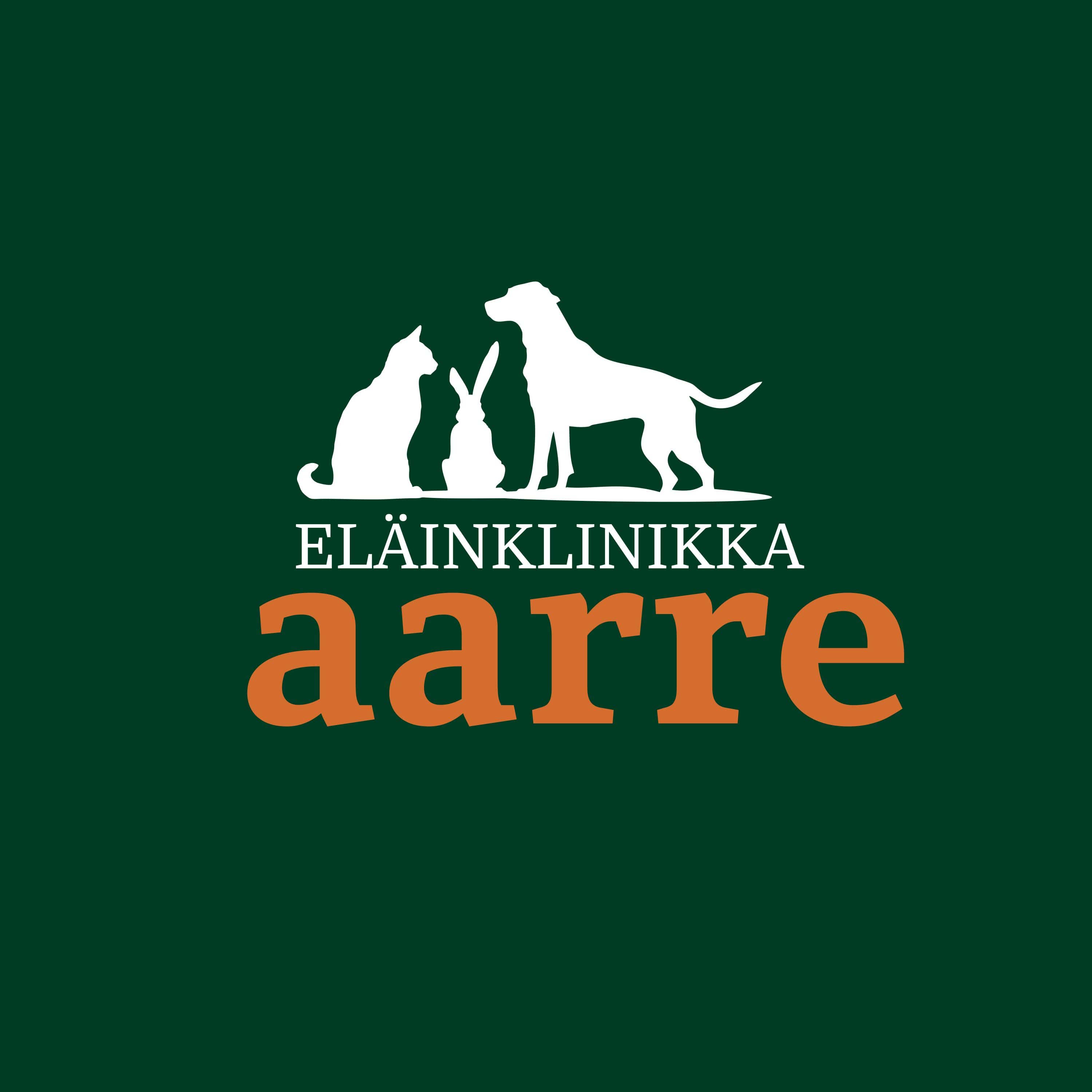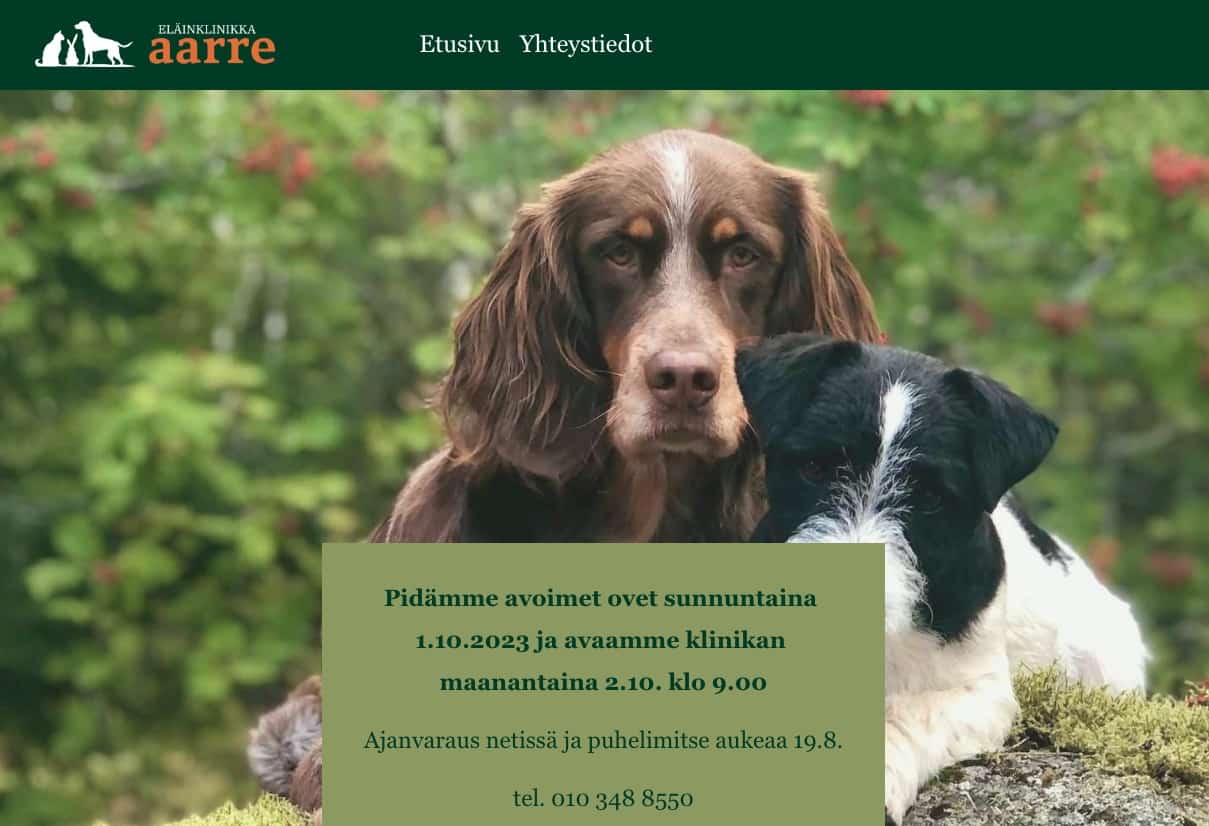 We created a website for the veterinary clinic Eläinklinikka Aarre Oy in Lohja using the Square Space service. We also designed the visual identity, including logos, promotional materials, and window decals, according to the client's wishes.
---
Finnish Literature Society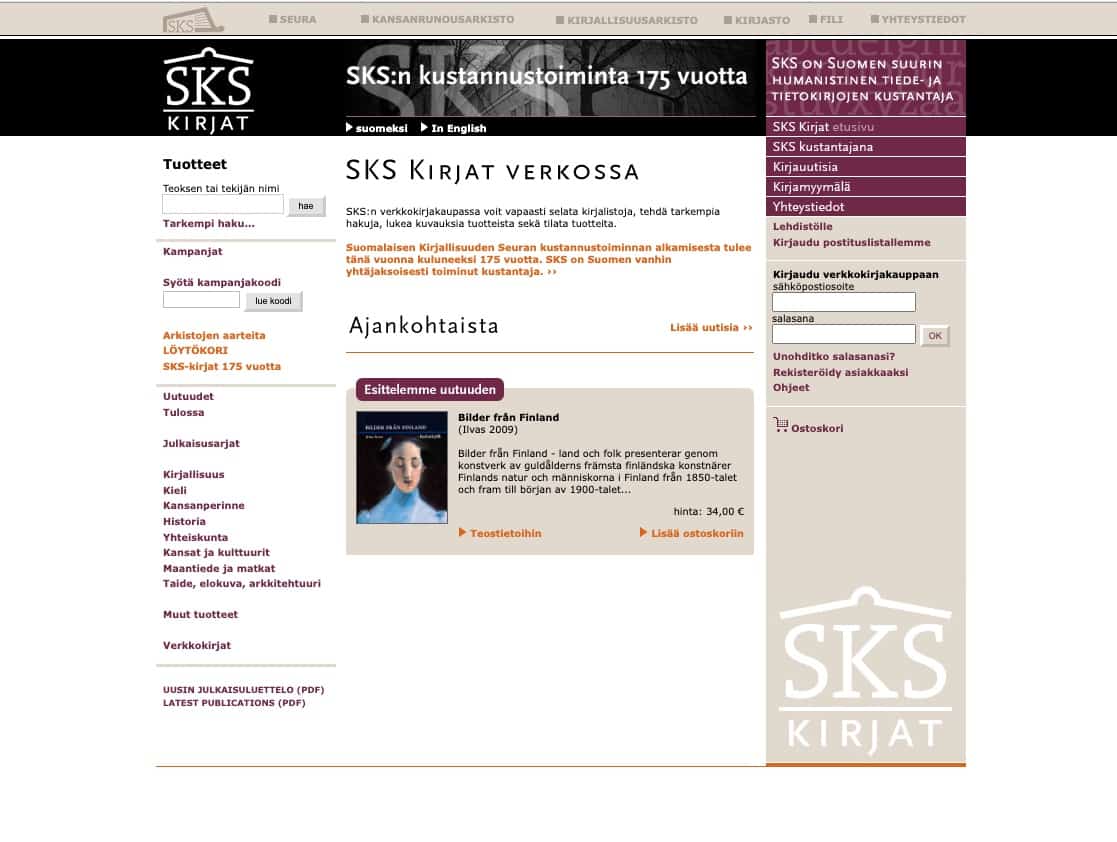 In the early 2000s, we developed several website components for the Finnish Literature Society, including their online bookstore. The bookstore was a fully customized product, featuring a versatile campaign tool and integrations with inventory systems and all bank payment systems.
---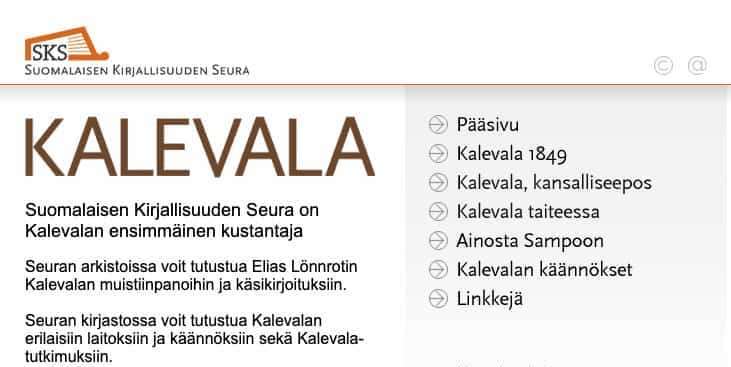 We also created the official Finnish Kalevala website, allowing users to browse and search content from the Kalevala.
---
Menudata Oy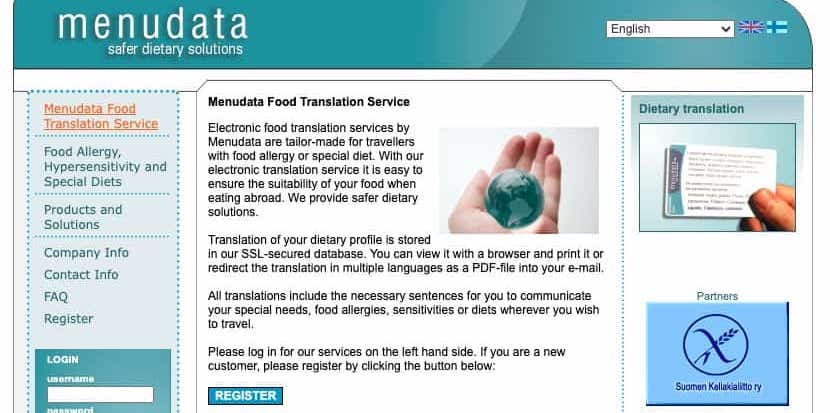 In the early 2000s, we developed an allergy card service for Menudata Oy. Customers could order credit card-sized cards with explanations of their allergies in various languages. We created the entire customized system, including backend, order management, payment systems, and card printing.
---
Spirit Store Oy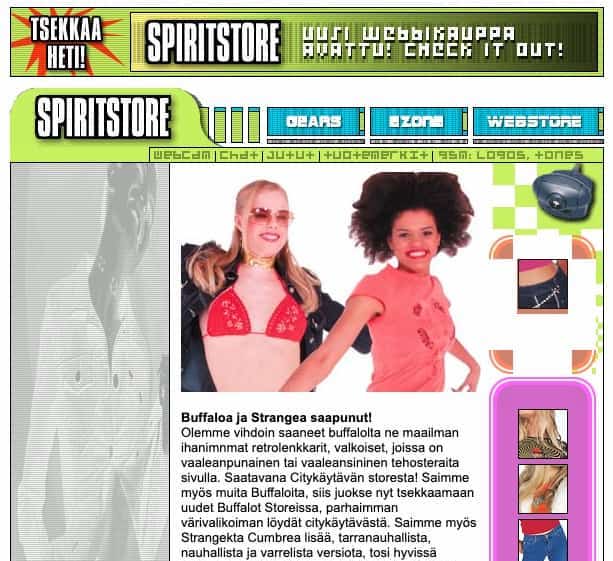 It all began in the late 20th century with a custom online store for the largest youth clothing store in the Nordics, Spirit Store. We designed a tailored online store and managed their social media. The project included everything from design to server installation. Payment interfaces, customer databases, and more. The site featured unheard-of features for its time, such as boards where users could leave messages on each other's walls. There were in/out polls and much more. All of this a decade before social media or smartphones!
---
Some of Our Clients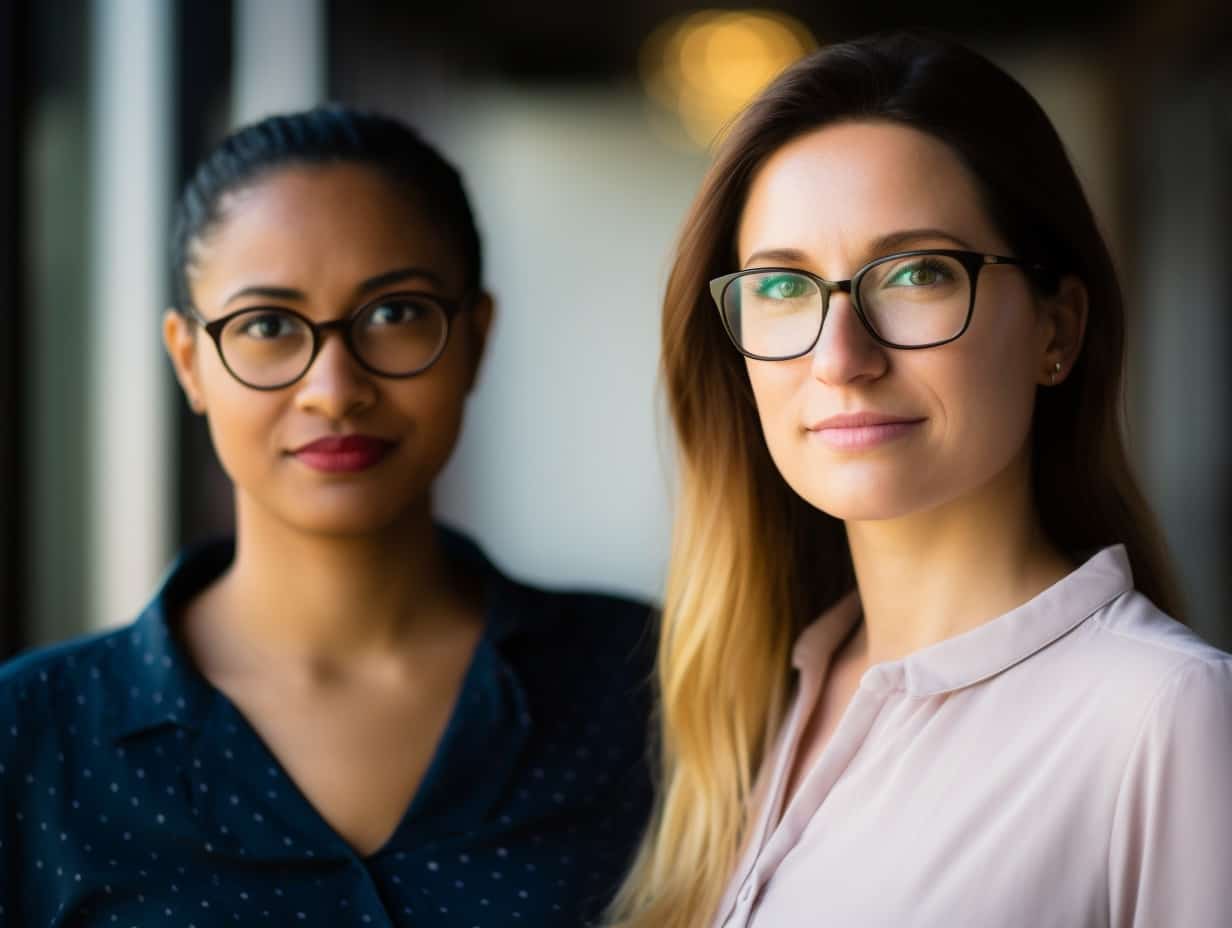 Architects P&P Manner Oy
Attorneys at law Ratiolex Ltd
Basemark Ltd
Kristallisilmä Oy
Effortia Ltd. - Asuntojenmyynti.fi
Eläinklinikka Aarre Oy
Enterprixe Software Ltd
Etelä-Suomen Talopalvelu Oy
Menudata Ltd
Nokia Networks
Finnish Patent and Registration Office
Rajala Consulting Oy
Interior Architects Oy Karja & Ko Ab
Spirit Store Oy
Finnish Literature Society
Vator Ltd.
Warner Music Finland Ltd
Zokem Ltd
Contact us and we'll tailor the system to your needs!
digination@digination.fi
+358 50 552 4612
---
Digination Oy 1548182-0 / Vironkatu 12, 00170 Helsinki